SEO – Search Engine Optimization
Get more valuable customers and increase your sales
Diligent planning for long-term benefits
 Build your brand
Free assessment of your SEO potential
Get your first SEO analysis for free
We offer a free assessment of your profitability and an analysis of whether SEO will benefit your business. Let us help you take your first steps – contact us today!
What advantages does SEO confer?
More valuable visitors – more sales
We help you generate more valuable visits to your site by making you appear higher in Google's search results for the keywords that benefit your business in particular. When SEO is performed right, it makes it easier for your target group to find you when they are looking for information. The more valuable visitors you get, the higher your profitability will be.
Together we will choose the most relevant keywords: those that sell your product, have a good search volume, and a low competition rate for higher effectiveness. In addition to the keyword research, we will also perform many other improvements to help you achieve the best possible SEO. Our tools will help us review your entire website. We will look at each page to find possibilities for improvement.
Optimizing your website for Google's search results includes giving your brand more visibility, thus making it stronger. A well-established brand is an essential resource for your business and your goal of increasing profitability. It also helps you sell better through other means.
We help your brand to be visible higher in the search result, making your visitors perceive you as trustworthy and knowledgeable in your area of expertise. This will also create more value for your visitors, because you can quickly provide solutions and answers to their questions and needs.
Diligent planning for long-term benefits
We base our work on diligent planning that provides long-term benefits. The SEO work we perform for your business will create long-term value for you. All the changes we make will remain on your website and continue to yield positive results even after the contract ends.

When you choose to work with us to improve your SEO, you do not commit to any subscription. You are free to end the collaboration anytime you wish. You will continually reap the benefits from our work, while only paying for the time we have spent making these changes. To ensure that your SEO holds the highest possible quality, we always follow Google's guidelines.
Successful SEO improves user experience
Good search engine optimization ensures that your content is meaningful and relevant for the topics your visitors are looking for, which improves the user experience. Google gives the highest rating only to websites where the information is pertinent, relevant, and useful for the visitor.
How we work with search engine optimization
On-page SEO and off-page SEO
We focus mainly on on-page SEO, which in most cases is very effective and encouraged by Google. Our work with on-page SEO includes changes on your website that provide you with guaranteed, long-lasting effects even after the termination of your contract with us.
We also work with off-page SEO, which consists of improvements performed outside your website. Off-page SEO includes all external activities whose objective is to increase your ranking in the search results. We always ensure that you get a natural link profile when implementing these changes.
For on-page search engine optimization, we will review and work with your extant texts. To optimize the material for search engines, we may have to make a few adjustments. We will provide you with the necessary recommendations to achieve the desired effect. Google examines hundreds of variables when assigning your website a spot in the search results. 
Some important features for SEO are:
H1s and H2s (some headings)
Keyword mapping (deciding on keywords for landing pages)
Meta descriptions (used to describe the content of the page when a user is considering clicking on the link)
Alt-texts that are shown instead of the picture when loading times are slow or when the user wants the pictures "read".
Internal links
Duplicate content
Broken links (Links that give you a 404)
Broken external links
Successful SEO requires proper tools
We have the best tools to solve your SEO problems
We have the most effective tools to find and solve the SEO problems that you are facing. If you desire well-done SEO work that leads to long-term results, it is not enough to just use a few tools or perform a few random adjustments. At Adveriser, we have more than ten different types of tools for which we pay a considerable sum . Our use of these tools allows us to ensure that the work you need will be done and the desired results will be achieved. We can review your entire website with these tools (yes, over 10000 links!), examining every page and investigating different possibilities for improvement. In other words, we can seamlessly perform a job that would be impossible to complete manually.
Positions and possibilities
Of course you will want to see the results of our SEO work! For this reason, we offer a report of 5-10 pages that allows you to follow up on the progress of your keywords, weekly or monthly, as well as measures you can take to improve all your pages (with a maximum of 100 000). For your most important keywords, we look at:
The trend since the tracking began
How the competition has developed
The search volume for your keywords
Which pages each different keyword ranks for
We also take into account what happens with each change you make, such as:
The result of different SEO strategies
Change of website
Installation of SSL (HTTP)
Launch of new pages, blog posts, or changes to these
… and much more!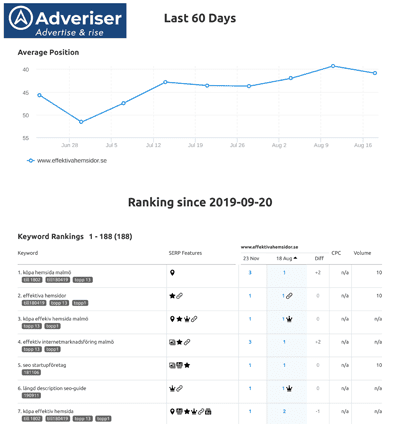 Telephone
Telephone: +46 702 97 51 32
E-mail
Visiting Adress 
C/O Minc
street: Anckargripsgatan 3a
Postalcode: 211 19 Malmö
Can you guarantee an exact position in the search result?
No, it is impossible to guarantee an exact position. However, we can make an assessment by comparing the current competition and positions, as well as examining how much potential your website has.
Why don't I receive any visitors to my website?
Many believe that the lack of visitors means there is something wrong with their website. This is seldom the case; most websites are acceptable. Imagine you have a house (your website) in the middle of a forest, without roads or signs (no backlinks or on-page SEO performed). The visitor doesn't know how to find you, even if they should want to. It makes no difference how big or beautifully designed your house is (how expensive or professionally created your website is) if you don't receive any visitors.
Implementing search engine optimization and other methods builds a well-trafficked road with clear signs that lead your desired visitors straight to your website. Create a professional website that is both responsive (meaning visitors can see the same website from their phone, tablet, or laptop) and optimized for conversion (optimized to help visitors become customers). You are thereby generating the ideal conditions for your visitors to find you and complete a purchase, and your revenue will increase accordingly.
Is search engine optimization the best alternative for you?
SEO is not optimal for everyone, and here's why:
It takes time for search engine optimization to produce results. For example, if your website and domain are new, it may require significant efforts. In the beginning, you will have no backlinks at all, while your competitors may have thousands. They will rank better than you even with substandard on-page SEO. In those cases, we recommend using Google Ads  – a method that will create traffic for you from the very beginning.
It may take up to three months to see the full effect of SEO. Some of our clients need their traffic to increase as soon as possible. In this case, it's better to start by using Google Ads.
Who can benefit from SEO? 
Search engine optimization is crucial for e-commerce merchants, because the search volume is often substantial and the sales data needs to be clearly visible. It's relatively easy to calculate the cost of the SEO work and thus know your exact revenue. In many cases, search motor optimization leads to a significant increase of sales in e-commerce. The profitability is high – which explains why most e-commerce merchants put much effort into search engine optimization.
Businesses that are geared toward a small number of customers do not benefit as much from SEO. It can be very costly to rank highly in order to reach ten potential customers each year.  It is much more useful for these businesses to call those ten customers or organize a trade show.
What is off-page search engine optimization?
Off-page SEO is all the work performed outside your website that has as a goal to help you rank higher in the search result. Obtaining inbound links from other websites is a substantial part of this work. The websites that provide these backlinks can be anything from blogs and magazines to other distributors and businesses.
Let's say that your website gets an inbound link from a trustworthy company with a high "page rank" (Google's value system that is used to rank businesses, among other things), and that this particular site is relevant to your keywords. You will thereby have received a positive link strength that will help you rank higher in Google's organic search results.
Be wary of buying links and working with methods that Google has not approved, since the search engine punishes this by downranking your site. In addition, these methods are not as profitable, because renting links becomes expensive in the long run.
How many variables does Google examine?
Google looks at several different ranking signals to decide your position in the search results. The algorithms (methods) that Google uses to this end are being changed and updated continually. This is why it pays to be well informed in order to make the right choice. Google examines a total of more than 300 variables to rank a site.
Does the amount of words matter for search engine optimization?
Yes. For Google to highly rank a website, they want it to contain pertinent, relevant and useful information. We recommend that you write at least 400 words per text to create a solid basis. A page's strength increases when more words are added, with an upper limit of around 2000 words – further content has little to no effect.
How much does SEO cost?
There are different pricing models for SEO. We recommend that you buy a certain number of hours per month, so that the agency of your choice can set up an ongoing implementation of methods for improvement. A practical place to start is our complete analysis of your website , available to you upon request. Some agencies charge for the entirety of the time that your website spends among the top ten results. This measure is more profitable for the agency than for you as their client.
In these cases, the agency only uses the keywords that they perceive to be easy, and neglects the usage of terms that will require more work and effort. This is a one-time job that will keep producing money every month without them having to do anything more. An ideal set-up for the agency – while you as their client have to keep paying hefty sums of money every month, without receiving any further benefits in return.
What should you consider when purchasing SEO and search engine optimization?
It's important to choose an agency that is professional and serious, and that doesn't use an unnatural profile with bad links when working with off-page SEO, for example. They have to guarantee that the entirety of their work will remain available to you even after the contract has ended (except for the cases where you rent links).
You should check that the price is reasonable and that you will get regular reports about the work that has been done. As mentioned under "How much does SEO cost?", there are agencies that limit themselves to a one-time job and keep charging expensive fees month after month without implementing further changes.
Which terms should you choose for SEO and search engine optimization?
Invest in keyword research. A serious agency will also recommend this. Keyword research implies a more in-depth analysis to find the best keywords for you to focus on, and it should also include a profitability potential.
If your business is small, a general term like "shoes" can make it impossible to come anywhere near a traffic-generating position in Google's search results. As "the small guy", it is not possible to outcompete mammoth brands like Zalando and Brandos, that spend millions on their advertising every year. In these cases, it's completely useless to invest in these general terms. You are better off investing in low-competition, longtail keywords, like "black Loake men's shoes".
On the other end of the spectrum there are much longer terms that rank highly but become useless quickly because nobody searches for them. An example of this would be optimizing for the phrase "green men's shoes with pink laces on Vasagatan".
In addition to finding the right balance between searchability and high ranking, you should also make sure that your keywords are relevant and have a high probability of conversion.
Does it matter if I'm in first or tenth place?
Your position in Google's result list makes a huge difference. We humans are creatures of habit, and as such, we tend to click on the first results that Google shows us. Studies have shown that the first place in the search result has a CTR (click-through rate) of about 18 %, while the tenth place merely gets a CTR of 1%. This means that if 1800 people click on the first search result, only 100 people will click on the tenth result.
What is the meta description? – Your first contact with the customer
The choice of meta descriptions and meta title are, together with your URL (web address), the only things that the visitor will see about your website in Google's search results, and therefore also your first chance to capture their attention.
For a successful search engine optimization, it's crucial that these be informative and include a USP (Unique Selling Proposition, the unique feature that characterizes your offer) combined with a CTA (Call to Action). An example of this could be: "30% off – Grab yours today!", "Free delivery and returns", "Customer satisfaction guaranteed", or "Start your safe shopping today!". If the meta title and meta description include your keyword, they will also contribute to the search engine optimization.
What does Google say about search engine optimization?
We follow Google's guidelines to the letter. Google has written a beginner's guide for you to read and receive a few tips along the way. Read some of Google's basic guidelines here .
Do you have further questions? Are you eager to get started? Feel free to contact us by email at thomas.jonsson@adveriser.com, or give us a call at +46702-97132.
We look forward to hearing from you!
Are you ready to improve your online marketing?