Maximize your profit with Google Ads: Start a free trial of our management today
See in black and white what we can deliver
Compare your results before and after
No commitments
What advantages does Google Ads offer?
Clear statistics for analysis, tracking, and improvement
With Google Ads and its clear statistics, we can optimize your marketing in a much more effective way compared to traditional resources. Google Ads lets you track, analyze and improve your marketing in real time, thus directing your efforts toward a very specific target group that is profitable for your goals. You could for example aim for 35-45-year-old parents that are searching for "fun baby gym" in Kiruna, who previously looked at similar products on your website. For you as our client, we will use data-driven algorithms that optimize every search word daily, even by the thousands, to raise your profit to a completely new level, superior to what is made possible by traditional management.
High relevance for the Google Ads user
When the customer reads new articles and blogs, they are interested in the text, not the advertisement. On the other hand, if the client is actively using Google Search and for example uses the search phrase "buy Converse shoes", the relevance will be on the ads that showcase that specific kind of shoe in the search result. Your marketing will therefore become much more effective. Statistics show that Google ads get 65% of their clicks from customers that plan to complete a purchase.
Advertise according to the budget that currently suits you
With Google Ads, you can instantly adjust your budget and sales to your current needs. In other words, you are able to start and stop advertising whenever you decide to do so. We optimize your Google Ads account by adapting your strategy to the days and times when you receive the highest profit. We help you work smart: if you get too many customers, we reduce the budget; if you need more clients, we increase it immediately. All these changes and optimizations are included in our current administration fee. You can contact us at any time for advice or changes in the budget, ad texts, statistics, and more.
First place in the search result from day one
A great advantage with Google Ads is that you will be visible before the organic search results from day one, and will thus generate more traffic. In this aspect, it differs from search engine optimization, which can take several months to show results. With Google Ads you choose who you want to be visible for, and with which keywords. This makes you visible for the target group that will provide the greatest advantage to your business. Getting started with Google Ads is fast, and you will start to see results just as fast!
Offer: Free two-month trial
Let us show you how we can maximize your profitability
Right now you can start a completely free two-month trial of our Google Ads management services. This will allow you to see how much your profit can increase with our help. This trial is completely free from commitments. To take advantage of this offer, you must have an existing Google Ads account.
What sets Adveriser apart from others?
What makes Adveriser different?

Other agency
(Not certified)

Certified Google Ads supplier and Google partner

Over ten thousand monthly optimizations for increased profitability

Surpasses Google's minimum recommendations on build quality

No additional cost for changes according to your wishes

Call and email as much as you want at no additional cost

All managers have a minimum of 5 years of experience with Google Ads

Daily checks to make sure all links to your website actually work

Daily checks to discover and fix critical errors in your account

Optimization methodology to avoid being "limited by budget"

Access to Google's Beta products

Contact with Google's team of specialists through the agency

Keyword optimization is done separately for desktop and mobile devices

Dynamic monthly reports about Google Ads and your website

Includes tracking of keyword ranking

Includes monthly reports about SEO possibilities, your link profile, and more

Comprehensive keyword analysis
How does Google Ads work?
With Google Ads you appear among the sponsored links in the search result. When a sponsored ad is clicked on, the company behind that ad must pay for the click. The deciding factor for how high a position your ad will get in the search result is that ad's ranking in the so-called "ad auction" that happens every time an ad is to be shown in a search. The quality of your ad and its keywords is very important for ranking, as Google Ads rewards ads with high quality and relevance, which raises your Quality Score. Ads with a high Quality Score can, for example, get better ad positions, lower cost-per-clicks, and higher ROI. In other words, a higher quality result means higher profitability for you. Your Quality Score is determined by a number of factors such as your CTR, landing pages, ad text, and relevance.
At Adveriser we are certified by Google. We have industry experience since 2004. This means that we build Google Ads accounts with excellent performance. We use advanced mathematics to ensure that the bidding takes place where you obtain the highest ROI. Contact us today to increase your profit with Google Ads.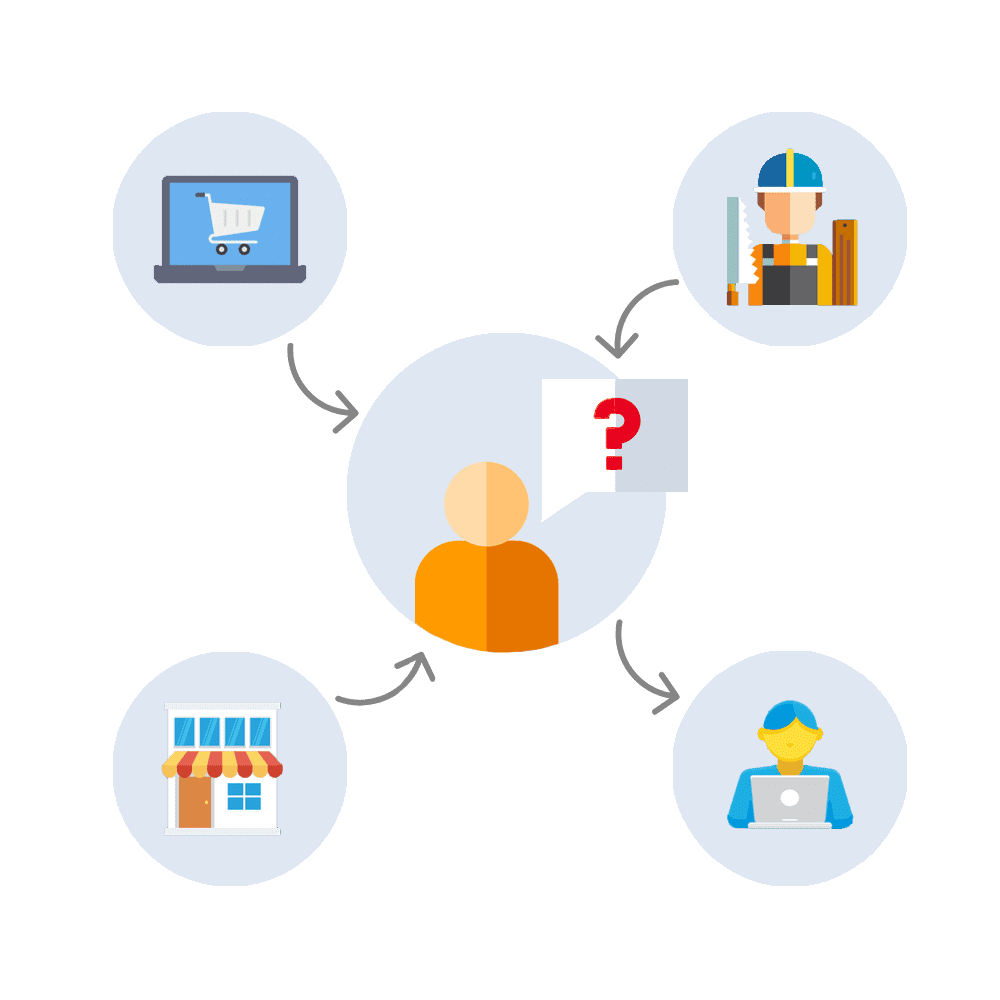 Google Ads is suitable for anyone who desires full control over their budget and wants to sell more. In general, Google Ads works better for companies that sell to end customers (B2C) than for those that sell to companies (B2B). However, the result depends on the specific circumstances. For businesses with high fixed costs, Google Ads can be an effective tool to even out highs and lows in sales. In these cases, we increase the budget for Google Ads when sales decrease, and vice versa when sales increase. Other businesses choose to use Google Ads continuously to increase overall sales.
We are native Swedes and if you are looking specifically at targeting Sweden with Google Ads read here how we can increase your profit.
Will Google Ads benefit your business?
Free profitability assessment
Allow us to perform a free profitability analysis before you decide to invest in Google Ads. We will assess which opportunities you have to become profitable, as well as how much money you can make with Google Ads. The total amount of sales you will make depends on many factors. It can include anything from the size of your budget, your conversion rate, the number of people searching for your services, and the quality of your landing pages. During a profitability analysis, we look at how much you can earn by examining relevant keywords, search volume, your current sales, and the cost of visitors, among other things.
What can you accomplish with Google Ads?
With Google Ads display ads, you will be visible with images, text, or multimedia. Unlike Google ads in the search results, these ads are also shown to customers who are not actively searching for your keywords. This grants you a very wide reach. Display ads can reach 90% of global internet users , for example via blogs, websites, and news sites.
With search engine advertising through Google Ads, your ads can appear at the very top of the search results for the exact keywords and audience that are valuable to you. Being visible at the top of the search results is crucial to get the customer to complete their purchase from you instead of turning to your competitors. Additionally, you will start to see results after a very short period of time.
With Google Shopping, you can market your products at the top of the search results by offering potential customers valuable information such as photos, prices, and your store name. You can also increase the number of visitors to your site and find better leads. When you offer ample information about your products, the customer will be more inclined to make an informed decision and complete a purchase.
At times, customers on your site can be distracted by something else and thus decide to leave the page. This is a perfect opportunity for you to remind the customer that you exist so that they can return to your website again and complete a purchase. You can do this by, for example, showcasing the product the customer looked at as they continue browsing.
With video material, you can showcase your products and services in an effective and eye-catching way on YouTube's and Google's vast network. Video ads will, among other things, increase awareness of your brand, allow you to communicate with potential customers, and encourage them to take action.
App campaigns – For the app developer
App campaigns are your best way to ensure that more users discover your app by marketing it with ads and videos in Google Play, the Google Network, YouTube, and directly in apps. You can also link directly to your app in Google Play or the Apple Store, depending on which operating system the user has.
Increase your profitability with algorithms
We use algorithms to maximize performance
Managing budgets and bidding in an optimal way for Google Ads accounts is a complicated and time-consuming task. We build accounts that are even larger and more demanding than what Google recommends. We are able to manage them effectively thanks to the use of unique algorithms that maximize performance. Larger accounts offer the potential for higher profitability, and with our optimized algorithms, we adjust the search words hourly to maximize profitability. This means that we make tens of thousands of optimizations every month.
The Google Ads environment is constantly changing. You will need to adapt accordingly. The price for each auction fluctuates due to ever-changing bidding by competitors, political decisions, or changing trends. The shorter the time period you use for your data is, the more your optimization for the current environment will improve. However, you must have access to sufficient data to be able to perform said optimization.
We reduce costs by 10-30%
We calculate how probable it is for a certain keyword to be profitable the next time someone clicks on it. That way we can bring home the most profitable sales. Some terms may get many conversions by sheer luck. Others may not get any conversions at all, despite having received the same number of clicks. However, they might have the same probability for conversion. We pay close attention to this probability, as well as to the value of each conversion, and adjust the cost per click (CPC) accordingly. This normally reduces the cost by 10-30%, or increases sales accordingly.
24-hour optimization script
We will introduce our 24-hour optimization script after a period of two months. This script finds the times of the day and the week when your profitability is at its highest level and adjusts the bidding accordingly. For example, in the mornings your return on investment (ROI) will differ from what is attainable at midday or on the weekend. We take advantage of these trends to maximize your profit.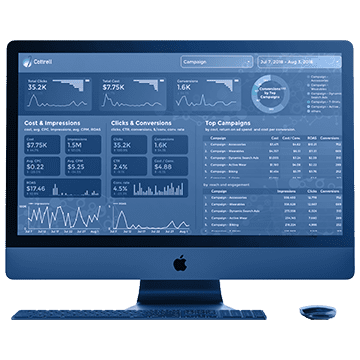 Your results, clearly reported
We always ensure that your results can be measured in terms of profitability through so-called goal tracking. We set a monetary value on the goals that you consider important. This can be, for example, the value of an order, a quote, or a completed form. Every month, we send you dynamic Google Ads reports so you can keep track of your profits, sales, and costs. Goal tracking is vital for our objective: to effectively optimize your account. It shows us which keyword, location, device, and time of day perform best, among other things. Goal tracking also allows you to see and optimize all other sources, such as search engine optimization, social media, and blogging.
CEO and founder, Importbil.se
Adveriser has improved Google Ads and our landing pages.Today we sell more than ever with only 25% of the budget!
"Adveriser gave our digital investment a flying start and the leads from Google ads increased with 296% in four years."
Digital strategist, Learning To sleep
Google Ads and SEO have increased our sales significantly. The growth wouldn't have been the same without Adveriser.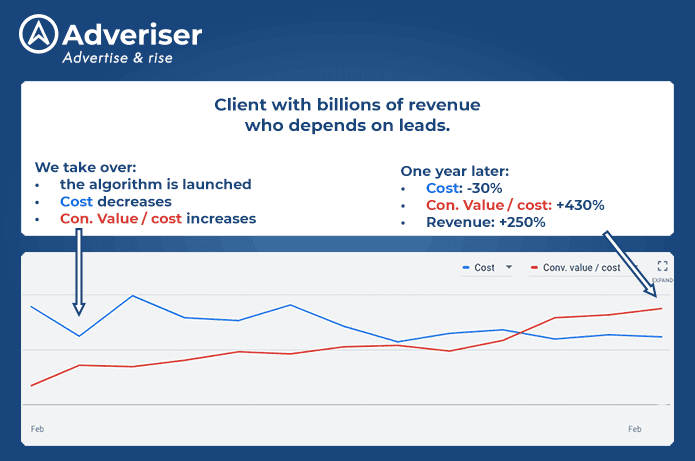 Get the latest improvements with us. Always.
As certified Google partners, we make sure your website always implements the latest improvements in Google Ads. Our continuous meetings with Google Ads European Headquarters in Berlin allow us to stay constantly updated so that we can take your profitability to the highest possible level. Should the need arise, we have many direct contacts at Google. Senior Google Ads specialists will conduct ongoing reviews of your account to ensure that our work will produce the absolute best results for you. As our customer, you will receive benefits in the form of access to credits from Google Ads when we carry out major optimization work (A/B tests) that can increase your profitability. As partners, we also get access to Google's beta products (new improvements/products in Google Ads) before everyone else. This gives you as our customer an obvious advantage over your competitors.
Are you ready to improve your online marketing?